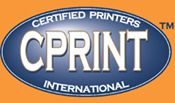 We look for many qualities in the individuals we hire -- among them, the ability to communicate effectively, to work within a defined organizational structure, and to follow standards for production and personal conduct.
We have created an adult working environment where each person understands what is expected (via our comprehensive job descriptions); is offered regular opportunities for skills training; and is treated with dignity and respect.
We offer a competitive wage and a real benefit package that includes holiday pay, paid personal leave, two weeks of vacation, company-paid medical benefits and a 401(k) savings plan.
If you are interested in possible employment with us, submit your resume to nancy@printingresources.com. Even if we don't have a current opening, we do keep resumes on file against a future need.
Current Openings
No Positions Currently Open.

Currently we do not have a position open. However, we encourage job seekers to submit resumés, and stop by to fill out employment applications. Frequently, positions open up unexpectedly and we usually start our employee search with the applications we have on file.