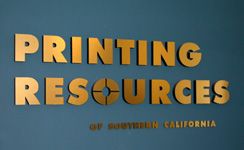 At Printing Resources of Southern California, we love what we do. The passion we have for the printing business incites us to take ownership of our customers' projects and drives us to deliver the highest-quality products possible.
There is no greater satisfaction than delivering a finished product that helps a customer reach the desired goals and objectives. To learn more about the mission and history of our company, follow the links below.
Our Mission And Promise To You
Our mission is to consistently provide our customers with what they have ordered, at the time promised, in a manner that meets their requirements; and to do so profitably.
Guiding Principles
Our company, originally called Helen's Place Printing, was established in December, 1970. There have been three owners: the founders, Helen and Jerry DeDiemar (1970-1989); their daughter Nancy DeDiemar and her husband Patrick Jones (1981-2011) and the current owner, Scott Kenning (production manager from 1998 to 2011).
In the early quick print days, production equipment consisted of an AB Dick 360 offset press, a Xerox 914 black & white copier, an IBM composer for typesetting, assorted bindery equipment, and a Data General Nova I mini-computer for job control and accounting. Over the years we have responded to customer needs by adding to our core operations. Today we provide products and services in four basic areas:
**full color printing on our high speed digital equipment
**single and two-color printing on offset presses
**marketing and communications services (mailing and web-based)
**new media services (desktop and mobile web sites, social media)
We support our printing services with graphic design, prepress and bindery (finishing) services. We also offer advertising and marketing specialty items through our membership in ASI (Advertising Specialty Institute).
We are a member of CPrint™ (Certified Printers International), an organization of printers nationwide dedicated to achieving peak performance in customer service and printing company management. We keep our technical and sales skills sharp by participating in CPrint™ University and training classes given by the United States Postal Service, our equipment vendors and software companies. We were certified by CPrint™ initially in 2002 and have been re-certified annually ever since.
We actively support the community that supports us by participating in community organizations.
Over the years we have earned many industry and community awards. We are especially proud to have been named Printer of the Year for 1999 by PrintImage International.