Dan Herrera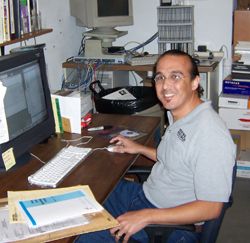 Prepress specialist
Dan is responsible for all prepress activities including graphic design, file preflight, color management, raster image processing and file output to all of our connected devices (imagesetter, color digital printer and black & white digital printer). In addition to solid skills in file troubleshooting and preparation for press, Dan has been trained in graphic design -- a great combination for our customers!
Here's a bit more about Dan:
Being creative is a trait Dan has had since childhood. In school he excelled in drawing and art, a skill he put to use designing sets for school plays and creating flyers for thespian events. After high school, real life called and Dan needed a job. He began working for the Ralphs Grocery Company and spent the next 13 years managing instead of creating.
Then in 1993, he changed to a new career field, digital graphic design, and trined at The Art Center College of Design in Pasadena. With the support of his wife Kim, who is a photographer and very creative in her own right -- she fabricates delicate wire sculptures that she distributes through her company, Herrera Designs -- Dan worked during the day and studied at night. In less than a year, Dan had his first job as a graphic designer.
It is unusual to find an individual who successfully combines the creativity required for graphic design with the high-tech problem solving ability of a prepress technician. Dan is one of those rare people. Dan says he looks forward to coming to work every day because of the professional atmosphere and because his co-workers have become friends.
When not working at their jobs, Dan and Kim love to entertain, are actively continuing with renovations to their La Verne home, and tending their gardens and swimming pool. They have two great kids, Jake and Camille.